About DFW Electrolysis
I specialize in the art of permanent hair removal. You can be assured that when you come in for your treatments you are getting your permanent hair removal services from an experienced, qualified professional.
Your comfort, safety, confidentiality, and successful treatment are my top priorities. I adhere to the highest standards for privacy and sterilization.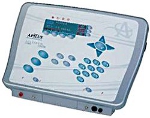 Equipment
DFW Electrolysis invests in quality equipment, including the Apilus Platinum Pure 27mHz, to ensure that your treatment is comfortable, safe, and effective.
Locations and Contact Information
Contact information, office locations, and appointment hours are available on our Contact page.
Modalities
Shortwave (Thermolysis)
Blend
Credentials

Member of the American Electrology Association
The American Electrology Association (AEA), established in 1958, is the largest international nonprofit membership organization for permanent hair removal professionals. The AEA promotes the highest standards in Electrology education, practice and ethics and champions state licensing and regulation of the profession to protect the public interest. The American Electrology Association plays a key role in providing reliable and scientifically accurate information to its membership, the public, the medical community and government agencies.
Graduate of American Institute of Education School of Electrology